Find expert solutions for all your plumbing emergencies in Frankston, routine maintenance needs and plumbing installation requirements with our team at Doyle Plumbing. We are trusted local plumber Frankston and family Frankston-run business bent on delivering premium plumbing assistance.
Trust Only the Best With Our Plumber Frankston
We are Doyle Plumbing, a team dedicated to delivering the highest quality plumbing services in and around Frankston. With years of excellent service delivery, we have achieved a sound reputation in the industry. We are a team people trust with their needs and recommend to their near and dear ones.
No matter your plumbing requirement, we will be up for the task and deliver the expected results. We undertake each project with the utmost dedication and equip every commercial and residential property with a fully functional and flawless plumbing system in Frankston. For us, the satisfaction of our clients is the topmost priority. We direct all our services towards ensuring a satisfactory plumbing experience for all our clients.
Our local emergency plumber in Frankston deliver various services, including:
New home plumbing
Renovation plumbing
Maintenance plumbing
Gas plumbing
Roof plumbing
Commercial and residential plumbing
High-pressure water jetting
CCTV drain camera inspection
Blocked drainage plumbing
Drainage excavation
You can avail of the required services whenever needed, and we work as per your schedule and provide the required support.
24*7 Emergency Plumber Frankston for Round-the-Clock Assistance
A plumbing emergency can occur anytime – you might wake up to a dysfunctional heating system, suddenly sense a gas leak, or notice a blocked drain in the middle of the night. All of these plumbing emergencies require immediate attention. That's why we are at your service with our emergency plumber Frankston. Be it at the break of dawn or in the middle of a working day, you can call us any time, and we will be at your doorstep to deliver the support you need. Once you brief us on your requirement, we will come fully equipped with an expert team and the necessary equipment to avoid delays. We will quickly troubleshoot the issue, employ adequate repair measures, and ensure your plumbing system is up and running within the minimum required timeframe.
Any plumbing emergency, if ignored for a long period, could give rise to a bigger problem and lead to costly repairs. So, to make you aware, here is a list of most plumbing emergencies –
Gas Leak: A gas leak tops the list of plumbing emergencies. It is inconvenient and could be fatal to your commercial or residential property. So, when you sense a leak, shut your main valve and seek expert help.
Blocked Toilets & Drains: Minor blockages can be cleared using a plunger or an unblocking chemical, but for complex ones, you need to consult professional plumber Frankston. Drain and toilet blockages could obstruct the full functionality of your plumbing system and compromise the hygiene of your residential or commercial property. Thus, it requires immediate attention.
Dysfunctional Hot Water System: If your hot water system breaks down during cold winter, it is a plumbing emergency. So, without any further ado, call our local plumber in Frankston, and we will be at your service.
Burst Pipe: A burst pipe can flood your home or workspace and damage your furniture, walls and other belongings. So, shut your main water supply line and avail our emergency plumbing services.
Pipe Leaks: We often tend to ignore pipe leaks, but it is indeed a plumbing emergency. They are irritating, lead to water wastage, and can shoot up your water bills quickly. And if there is a leak in several fixtures, it is even more alarming.
These are some common plumbing emergencies in Frankston. Whether your emergency falls in this or not, you can call for help, and our plumber Frankston will be at your disposal to resolve any problem you might be facing.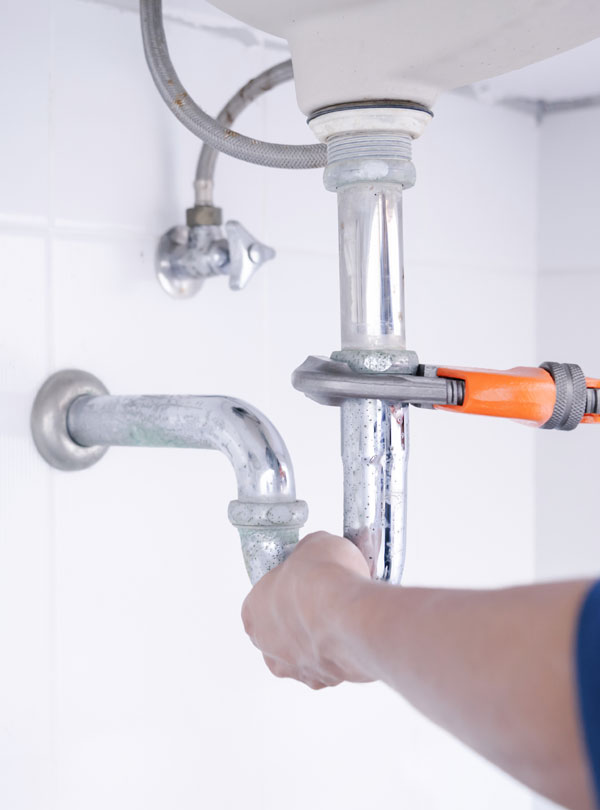 One Plumbers For all Your Plumbing Needs in Frankston
At Doyle Plumbing, we are known to provide comprehensive plumbing services. Our service catalogue covers all the plumbing requirements of your residential plumbing systems. Be it a modern plumbing installation that needs repair work or an outdated plumbing system that requires a complete replacement, our best plumber in Frankston are fully qualified to attend to them both. They have a thorough knowledge of all plumbing systems and their workings and use them to deliver the necessary services. We specialise in all kinds of plumbing installation, maintenance and repair works. So, once you engage with us, you will never have to look for another team for any plumbing emergencies or routine work.
Our plumber Frankston Experts:
Have the adequate knowledge and experience to handle even the most complex plumbing installations and repair work.
Always employ innovative methods and techniques and deliver durable and practical plumbing solutions.
Friendly and approachable and work with the utmost professionalism. They will work per your schedule and requirements and cater to your plumbing needs.
Insured and have the necessary licences required to deliver all kinds of plumbing services in Frankston.
Work with proper adherence to Australian Safety Standards and Regulations and leave no room for errors.
So, with our plumber Frankston, you will have access to the best plumbing services in the industry. We follow an affordable pricing policy and are transparent in our pricing. So, with us, you will only pay for the services you avail of and not a penny extra.
frequently asked questions
What Our Clients Say About Us
Jake was quick to contact and give a quote with a fair price. He came the next morning and removed the old hot water service and replaced in within an hour. He was friendly and informative about the job and left the area clean and tidy. I fully recommend this service.
Julie S
Glen Waverley
Jake responded my job fairly quick and get the problem sorted within the week. So far the result was great and haven't seen any other issues yet. Easy to deal with.
Bella Z
Narre Warren South
Very professional and excellent workmanship. Highly recommend Jake for your plumbing needs.
Tony Y
Doncaster
Jake was quick to respond and very quick to make time to come out and get the job done. Did the job efficiently and to a high standard would 100% recommend and use again!
Ricky L
Springvale South
Great service. Jake was quick to respond, has provided fantastic service in timely and professional manner.
Anil
Wantirna South
Jake replied to the Job ad straight away. He gave a reasonable price straight up. He showed up on time and did great job. Very pleasant and professional to deal with. I would hire him again for further work.
Karen
Berwick
Punctual, friendly and great service. Job done without stress or fuss. Site clean on completion.
Michael
Chirnside Park
Jake was an efficient professional and advised and supplied a cost effective toilet. Very clean and fast installation.
Dale S
Thornbury
we have 10 years experience in plumbing
Call us for all your plumbing needs
Call the Best Plumber Frankston You Can Trust
Doyle Plumbing Group is ready to help you with anything plumbing in Frankston area. We look forward to working with you on your next project with our proven track record of customer satisfaction. Give us a call today!